Van Buren Information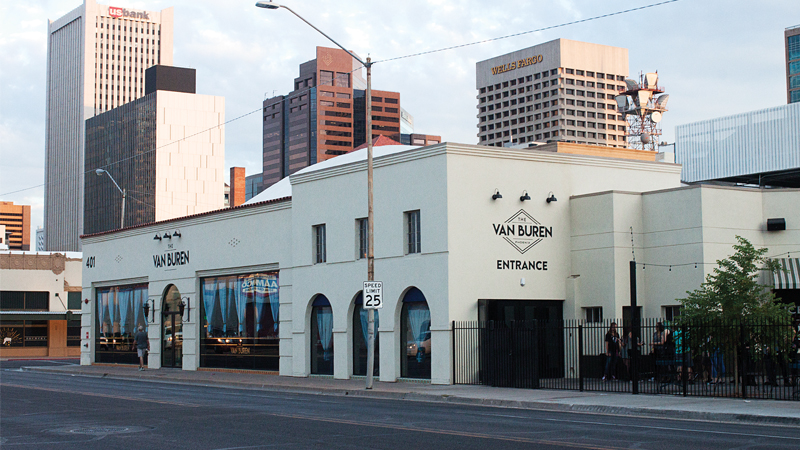 Since first opening as the Van Buren in 2017, this venue has not only transformed in itself but also had a huge impact on the local music scene.
Set in the heart of downtown, Phoenix, Van Buren aims to capture the magic of live music and bring a wonderful crowd of music fans together for unbeatable concert performances.
This indoor venue has a long previous history as one of Phoenix's oldest auto dealerships, with it's retro sign posts, it was the number one place to purchase brand new and used cars.
After the closure of the auto dealership, the building was sadly neglected for many years and could be seen with boarded up windows and very much a blank canvas. This inspired it's new owners to really transform it to the full and into the local music venue we know of it today – the venue has since been added to the National Register of Historic Places for it's memorable history.
Now called The Van Buren, it has been given a whole new lease of life, with a complete make over. The exterior of the venue is a welcoming display of beautiful theater like doors and an outdoor terrace complete with fairy lights. Inside, the venue is spacious with wooden floors and a modern industrial look, which makes experiencing a live concert here one to remember…
It's fresh interior lends itself to creating the perfect setting to enjoy all kinds of music, as well as offering a great full menu and a seperate seated area which is always lit with candles.
If you haven't experienced the Van Buren for yourself, then you are truly missing out!
With so many incredible events being hosted all throughout the year, make sure to book yourself in for a night at the Van Buren and get ready for an unforgettable time with your friends and family right in the heart of Phoenix!
Additional links for The Van Buren:
Ticket Policy:
Read ticket policies and important authenticity guarantees for any tickets purchased via this site.
Seating Map:
Check out the The Van Buren seating chart and view different seating options.
Parking Information:
Read more about parking at Van Buren and driving to the venue.